*This post may contain affiliate links. As an Amazon Associate we earn from qualifying purchases.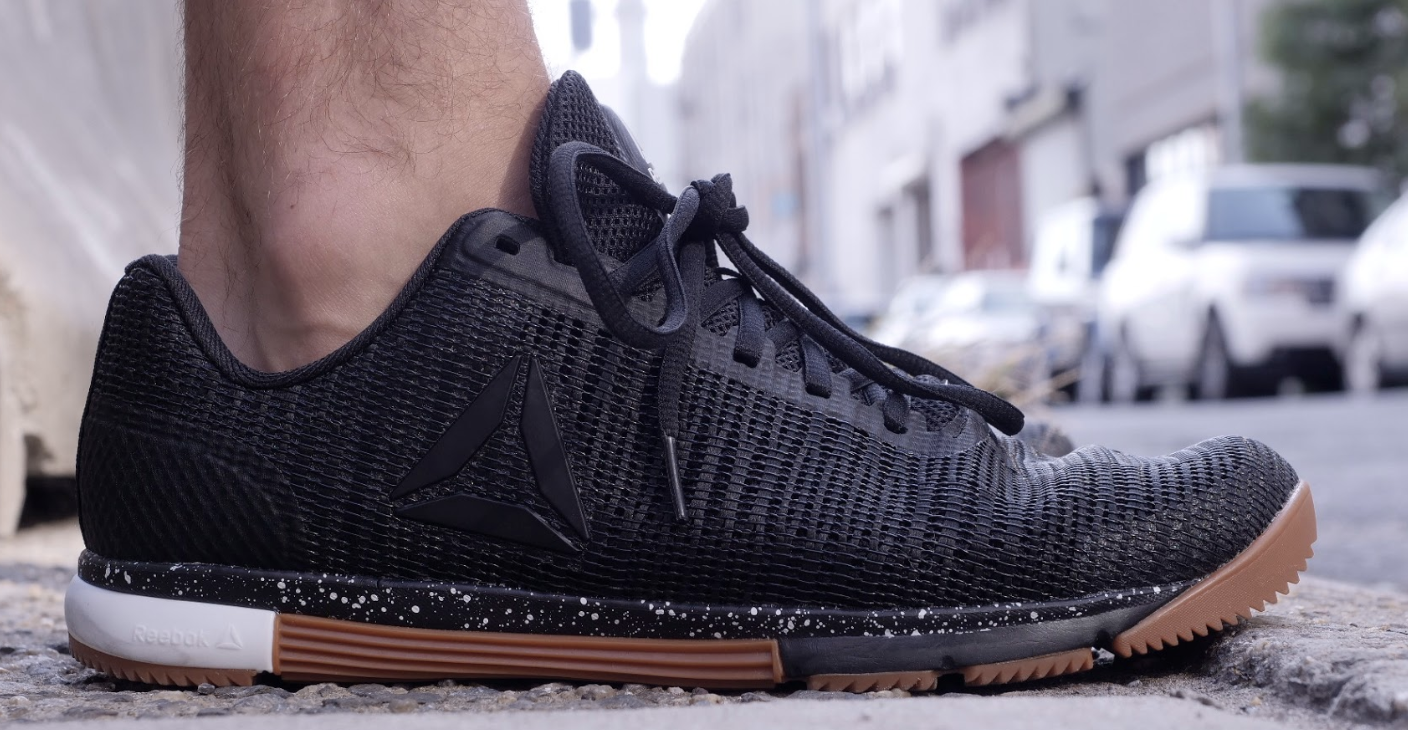 If your routine includes both cardio and weight-training, whether it's traditional CrossFit or not, you want to invest in the best CrossFit shoes you can.
Why? Because your CrossFit routine requires you to have proper shoes so you can not only get the most out of your workout but so you don't injure yourself. Training with the wrong shoes can make your feet sore and can create a negative association with the whole experience, which is exactly what you don't want.
Here's our rundown of the best CrossFit shoes.
How We Choose Our Picks
We took a deep dive into the needs of our audience and a thorough survey of the available options in the marketplace.
We also take into consideration the reputation of each brand and the personal experiences that customers have had with a particular product. This ensures that you get the most accurate review of a type of product before you ever reach for your credit card.
Top 5 Best CrossFit Shoes for Men
1. Reebok Men's CROSSFIT Nano 8.0 Flexweave Cross Trainer
Reebok Men's Crossfit Nano 8.0 Flexweave Workout Joggers,…
DURABLE AND LIGHTWEIGHT MATERIAL: These flex weave woven sneakers provide resilient stretch and support; Re-engineered…
EFFICIENT FOOT SUPPORT: These stylish trainers with new heel bootie construction with added cushioning provides ultimate…
COMFORTABLE AND STURDY DESIGN: This footwear with Toe Tection provides durability for high-intensity workouts; Low-cut…
This shoe was specifically designed to meet the needs of men interested in CrossFit and general weightlifting. In doing so, Reebok created a shoe with the durability and stability for the type of exercise you'll be doing.
Reebok made sure to poll their market audience about what it would take to make the best CrossFit shoes, including features, textures, and sizing.
The Rebook Nano 8.0 features:
Forefoot Cushioning: supports your foot during sudden shifts in weight and posture
4mm Drop: minimized outside drop provides extra foot security
RopePro Outsole: provides additional grip and traction
10 oz Weight: supplies a strong foundation for weight lifting
Wide Toe Box: gives your toes additional space for extra comfort
Heel Support: protects the back heel with TPU heel wrap
Beyond its functional features, the Nano 8.0 is a highly personalized shoe. It comes in 17 different color combinations for ultimate variety and personal expression in your next shoe purchase. Keep in mind that the price varies dramatically from each design and shoe size.
2. NIKE Men's Metcon 2 Mesh Trainers
Just like the Nano 8.0, these shoes come in a variety of color combinations and sizes to suit every possible preference.
While not specifically designed for CrossFit, they have a host of features that are suited perfectly to this type of exercise. The traction and grip of the shoe combined with the flatness of the heel makes weightlifting a stable and comfortable experience.
And with 19 color combinations, there really is a Metcon 2 Mesh Trainer for everyone.
3. Under Armour Men's Limitless 3.0 Cross-Trainer Shoe
With a distinctly masculine look and feel of leather, the Limitless 3.0 is an excellent choice for those who want a dependable and attractive shoe.
Features include:
TPU Toe Covering: to protect the toe area
Above-Arch Space: to accommodate normal foot movement and placement during exercise
EVA Sockliner: to eliminate foot slippage within the shoe
Outsole Grooves: to enhance the grip of the shoe to surfaces, providing higher stability
4. New Balance Men's MX40V1 Gym Workout Training Shoe
The Men's MX40V1 Gym Workout Training Shoe is for the guy who knows what he wants without all the fuss. This simple CrossFit shoe comes in 3 color combinations and provides a sleek yet understated look that gets the job done without garnering too much attention.
For the right guy, these shoes would be an excellent choice in terms of style and functionality.
5. Adidas Performance Men's Crazypower TR M Cross-Trainer Shoe
Still looking for the best CrossFit shoes for men? Then these Crazypower shoes might do just the trick.
They're designed to fit the cross-training elements of CrossFit but are not designed for short or long-distance running.
So, if you're looking for a more versatile shoe, you'll want to look elsewhere. But for the man on a mission to find a CrossFit shoe, this one fits the bill. The price ranges depending on the size and style of shoe.
Speaking of design, this shoe comes in only two varieties, so your paradox of choice dilemma is much minimized by the simple choice you'll need to make between the two.
RELATED READS: Complete Guide to the Best Earbuds for Working Out
Top 5 Best CrossFit Shoes for Women
1. Reebok Women's CROSSFIT Nano 8.0 Flexweave Cross Trainer
Taking the top spot again for best CrossFit shoes is the women's version of the Nano 8.0.
Just like the male version, it comes with a wide toe box for extra comfort and flexibility during movement as well as stability during weight training. It has forefoot cushioning for additional comfort as well.
The differences mostly center around the aesthetic, with more feminine color combinations available out of 15 available options.
Keep in mind that the price varies dramatically between designs and sizes, so be sure to double check before you add this particular shoe to your shopping cart.
2. Reebok Women's CROSSFIT Grace TR Sneaker
Rebook has figured out how to dominate the CrossFit shoe market, especially when it comes to women's shoes. They're not just designing shoes for cross-training, but creating shoes specifically named and designed for the needs of CrossFit exercisers. That's why you'll see a wider toe box in every CrossFit shoe as well as a grippy outsole to provide traction.
This version of their CrossFit shoe is often compared to the Nano 8.0 (much like every other CrossFit shoe, regardless of brand or gender).
3. Reebok Women's CrossFit Speed TR Cross-Trainer Shoe
That's right, Reebok isn't done just yet. They designed the Reebok Women's CrossFit Speed TR Cross-Trainer Shoe for quickness and agility during high-impact exercise that's common in CrossFit. It comes in 5 distinctive colors.
The variety of features includes:
Compression Sleeve: to keep your body position stable during strenuous weight lifting
Underfoot Cushioning: for maximum comfort
Metafoot Flex Grooves: to ensure flexibility and roominess during movement
Many advised against running as the arch, like almost all CrossFit shoes, isn't designed for long-distance running. They seem to like the roominess of the shoe, the breathability, and comfort that this shoe provides.
4. Champion Women's Gusto Cross-Trainer
If you're looking for the best budget buy when it comes to the best CrossFit shoes for women, look no further. The Champion Women's Gusto Cross-Trainer is extremely affordable and comes in an array of 27 delightful color combinations to suit any personality.
The features include:
Memory Foam Insole: to keep you comfortable during those long workouts
Breathable Material: to keep your feet cool and comfy and away from Athlete's Foot
Non-Marking Outsole: to leave no annoying surface marks behind during intense workouts
5. New Balance Women's WX409V3 Casual Comfort Training Shoe
Just like the New Balance brand, this shoe is no-nonsense. The design is pure function, so if you're looking for something with a little more razzle-dazzle, this shoe is not for you. It comes in two color combinations: black and white/blue.
Buyer's Guide 
When it comes to finding the best CrossFit shoes, you'll want to do your homework.
Putting this information together can give you deeper insights into what features you'll need in your next CrossFit shoe. It's much better to figure that out before you have to go through a few rounds of return purchases to find the best CrossFit shoes for you.
Happy shopping!
Last update on 2021-04-11 at 08:35 / Affiliate links / Images from Amazon Product Advertising API